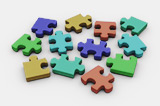 Patrick Lencioni in his leadership fable, The Five Dysfunctions of a Team wrote, "the ultimate dysfunction (of a team is) the tendency of team members to seek out individual recognition and attention at the expense of results." (2002 Jossey-Bass, San Francisco, CA)
The Underlying Problem
The difficulty is often not one of resources, skills, or effort alone (as is often assumed) but the lack of personal interests linked to a shared vision. Even talented and motivated people can only contribute as much as the culture allows.
Many organizations pursue production efficiencies, product improvements, technical skills training or marketing programs to boost bottom-line results. However, driving for organizational honesty may offer the fastest route to sharply better enterprise performance, market share and revenue growth.
Can your organization improve? YES.
We'll demonstrate that improvements take effect when leaders first honestly acknowledge organizational realities (strengths, obstacles, unsuspected mindsets, and unspoken fears). These realities are sometimes obscured by, old misunderstandings, turf competition, failures to confront tough issues, misalignments, or just too many "priorities".

How We Transform Enterprise Productivity